Saint Mary's COVID-19 Triage Center Hours of Operation are as follows:
Monday — Friday 8:00a.m. - 5:00p.m.
2424 West Main Street, Russellville AR 72801
479.858.1117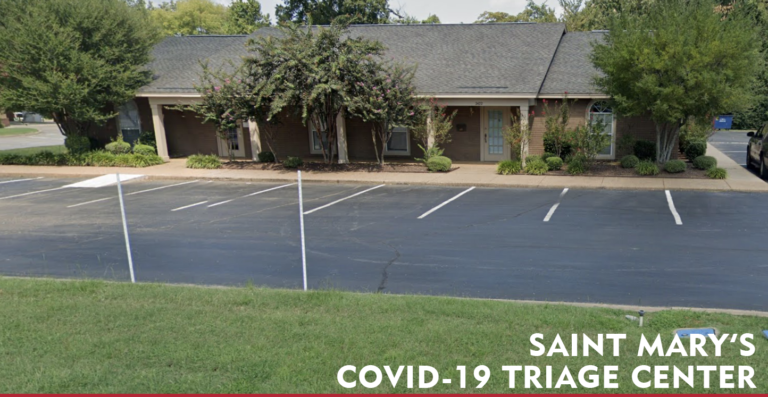 Ef­fective Friday, April 24, Saint Mary's COVID-19 Triage Center will reduce days of operation. Testing availability will continue Monday through Friday, 8 am to 5 pm. The center will be closed on weekends. The decision was made due to the River Valley's response to social distancing and the decline in the number of patient visits at the Triage Center.
Saint Mary's Regional Health System closely monitors updates from the Arkansas Department of Health and CDC regarding COVID-19 prevention, assessment, and patient care. The safety of patients and well-being of Saint Mary's clinical staff continue to be of utmost importance. Saint Mary's is regularly assessing measures for keeping the community healthy during this time.
If you are sick with COVID-19 or think you may have been exposed to COVID-19, call your primary healthcare provider immediately. See additional information on this site and visit healthy.arkansas.gov or the CDC's new site, coronavirus.gov, for the latest virus guidance and resources.
Saint Mary's Triage Center was opened in early April 2020 to help those affected by COVID-19-like symptoms while also protecting our community's elderly and ill patients and health care workers. It also helps to protect other vital community health care resources from being overwhelmed.
The center is located at 2424 West Main Street in Russellville; the phone number is 479.858.1117.
IF YOU FEEL SICK —
While this virus produces only mild symptoms in the majority of patients, it is still very important to distance yourself from others to prevent spread.
If you have mild flu-like symptoms such as fever, cough or body aches, please distance yourself from others and remain home. Call your doctor first for advice.
If you feel ill enough to see a doctor, please call your doctor first. Your doctor's office may direct you to Saint Mary's Triage Center.
If you have difficulty breathing or chest pain, call 911 immediately.
WHAT TO EXPECT AT THE TRIAGE CENTER —
At the Triage Center, you will be screened; most patients will receive advice about home care and be sent home. You may be asked to remain self-isolated to reduce the risk of transferring the virus.
While there, you will see health care workers in protective equipment. Do not be alarmed; this is to protect both you and workers. Patients will be tested for influenza and other conditions with symptoms similar to COVID-19.
At this time, access to COVID-19 testing is limited. Out of necessity, and until access to the test becomes less restricted, physicians may diagnose most patients without using coronavirus testing. Receiving results may take several days, and patients suspected of having COVID-19 may be contacted at home by the Arkansas Department of Health for follow up.
REMEMBER —
To slow the spread of COVID-19, and to protect the community's elderly and vulnerable, patients with cough or flu-like symptoms should stay isolated from others.
Call your doctor first if symptoms appear.
For the latest information about Saint Mary's response to the COVID-19 pandemic, visit facebook.com/saintmarysregional or the COVID-19 preparedness page on this website.