A Saint Mary's Birth Story: Courtney and Baby Willow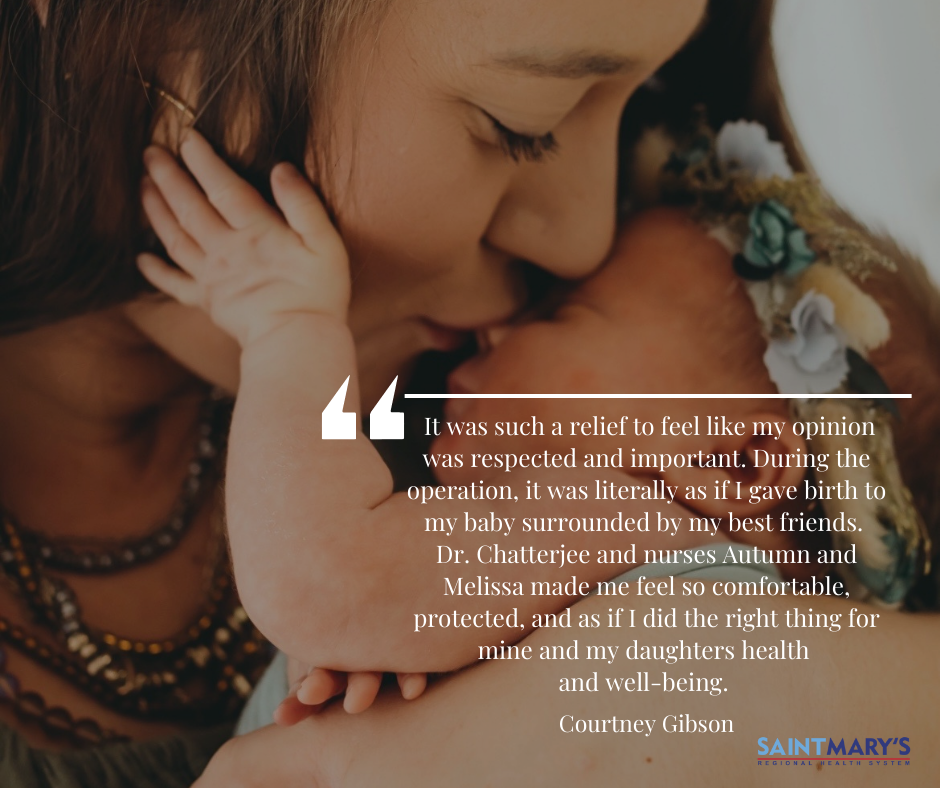 We love hearing from our patients... Have you delivered at Saint Mary's and want to share your story? Contact us today!

"When I got pregnant with my daughter Willow, I knew there was a very high chance I could deliver her early, as I delivered at 33 weeks with my son, Waylon. When I passed the 33 week mark with her I felt like a weight was lifted off my shoulders, however at 35 weeks I started experiencing contractions. I called Dr. Chatterjee's office that Friday morning, and she recommended I go to Saint Mary's to get checked due to my preterm delivery history. That checkup resulted in me laboring for approximately 49 hours with barely any dilation change.
During those long and excruciating hours, I was constantly waited on and cared for, especially by Brea and Betsy. Sunday morning Dr. Chatterjee sat with me and asked what I wanted to do concerning taking Willow early. It was such a relief to feel like my opinion was respected and important. During the operation, it was literally as if I gave birth to my baby surrounded by my best friends. Dr. Chatterjee, Autumn, and Melissa made me feel so comfortable, protected, and as if I did the right thing for mine and my daughters health and well-being.
When Willow was born, she was immediately handed over to Carolyn, who really was God sent. Willow had some issues with her breathing and overall health in the beginning and Carolyn did everything she could to get her headed down the right track. Willow was taken care of during her week's stay at Saint Mary's by the absolute best nurses.
I can never repay Marrlene, Morgan, Mikayla, Kaylee, and Shawn for all the love they poured into my baby, my family, and myself. It was so discouraging not being able to experience a "normal" birth for the second and last time. One where my husband and I get a private "golden hour" with our newborn. One where all our friends and family get to gather in my room and stand in awe of our miracle. One where we get to return home to our son and normalcy in general within a couple days. With all that said, these ladies I listed made it more cozy and enjoyable than I ever thought possible. They made it feel like home and they are truly why I walked away loving my birth experience at Saint Mary's."
Courtney Gibson